This will be a regular posting – presenting a link through a discussion of its value to me.
The Manual for Home and Farm Production of Biodiesel by SW Mathewson
A thorough but simple and well explained manual for anyone interested in Bioethenol, and who in agribusiness isn't today.
The manual is available online at http://journeytoforever.org, and as indicated by the table of contents below is comprehensive.
Chapter Index
Chapter 1 AN OVERVIEW
Chapter 2 BASIC FUEL THEORY
Chapter 3 UTILIZATION OF ALCOHOL FUELS
Chapter 4 ETHANOL PRODUCTION – GENERAL DISCUSSION
Chapter 5 PROCESSING STEPS COMMON TO ALL MATERIALS
Chapter 6 PROCESSING STEPS SPECIFIC TO SACCHARINE MATERIALS
Chapter 7 PROCESSING STEPS SPECIFIC TO STARCHY MATERIALS
Chapter 8 PROCESSING STEPS SPECIFIC TO CELLULOSE MATERIALS
Chapter 9 YEAST AND FERMENTATION
Chapter 10 INDIVIDUAL RAW MATERIALS
Chapter 11 DISTILLATION
Chapter 12 DRYING THE ALCOHOL
Chapter 13 MASHING AND FERMENTATION EQUIPMENT
Chapter 14 DISTILLATION EQUIPMENT
Chapter 15 SOLAR STILLS
Chapter 17 PUTTING IT ALL TOGETHER
Chapter 18 THE FUTURE
There is real detail in the manual down to understandable and practical drawings.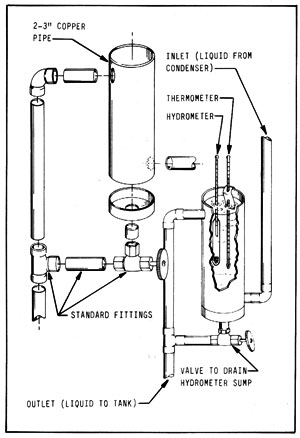 CONSTRUCTION OF A REFLUX COLUMN